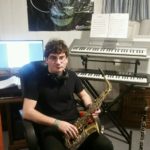 Since discovering his father's clarinet beneath the stairs at the age of 7, Ross's passion for music has evolved into a lifelong commitment and career. His musical beginnings consisted of orchestra and jazz ensembles in his school and community, eventually graduating to become the principal chair of the Maryland All-State and Maryland Classical Youth Orchestras.
Ross received the Louis Armstrong Award for Jazz Performance and the John Philip Sousa Award for musical excellence in high school.  He studied classical clarinet and jazz saxophone on a full scholarship to UMBC, graduating in 2016 with a B.A. in Performance. He has performed with a variety of jazz and new music ensembles in Baltimore and Washington D.C.  He has also been composing music since 8th grade, and has ranked in the international Scofen Music contest for EDM composition.
Ross has been teaching for the past 8 years, and draw his techniques from the lessons of the great teachers he has studied with. He believes that virtuosic musicians discover and cultivate their sound through mastery of the most basic of skills, and thus focuses on mastery of fundamental skills and tone exercises, even with more advanced students.  The characteristics of a musician's sound that differentiate them from their peers lie within their tone, breath control, concentration, and understanding of the underlying melodic and rhythmic structures.