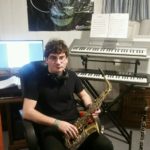 Since discovering my father's Clarinet beneath the stairs at the age of 7, my passion for music has evolved into a lifelong commitment and career. My musical beginnings consisted of orchestra and jazz ensembles in my school and community, eventually graduating to become the principal chair of the Maryland All-state and Maryland Classical Youth Orchestras.
I received the Louis Armstrong Award for Jazz Performance and John Philip Sousa Award for musical excellence in High School.  I studied Classical Clarinet and Jazz Saxophone on a full scholarship to UMBC, graduating in 2016 with a B.A. in Performance.  I have performed with a variety of Jazz and New Music ensembles in Baltimore and Washington D.C.  I have also been composing music since 8th grade, and have ranked in the international Scofen Music contest for EDM composition.
I have been teaching for the past 8 years, and draw my techniques from the lessons of the great teachers I have studied with. I believe that virtuosic musicians discover and cultivate their sound through mastery of the most basic of skills, and thus I focus on mastery of fundamental skills and tone exercises, even with my more advanced students.  The characteristics of a musicians sound that differentiate them from their peers lie within their tone, breath control, concentration, and understanding of the underlying melodic and rhythmic structures.
I begin lessons and practice sessions with sustained tones and interval/arpeggio exercises.  I guide beginning students through the Rubank, Accent on Achievement, or Breeze Easy method books.  I also believe in having practice performing, and thus all of my students study concertos/sonatos/fantasias and play mock concerts or auditions.
To keep things fun I also use the aebersold, and other play-along books with recorded ensemble backtrack CDs.   I am willing and able to teach whatever style or genre of music or improvisation that a student might be interested in, and have experience performing and teaching Classical, Jazz, Avant-garde, and 'New' music.
Contact us at 631-476-8946 if you would like to book Ross for music instruction.