Jared L.
Instrument(s):
Violin, Viola, Cello, Mandolin
Areas of Work:
Suffolk, Nassau
Type(s) of Lessons Offered:
In Home
Jared graduated from San Jose State University in 1977 in Music Ed. He worked his way through college giving private lessons on violin and mandolin. The Suzuki Method was new at that time and Jared was able to apply it, and other methods, with great success. Over the years, Jared has been able to perfect his skills as a string teacher and adapt to various styles including Classical, Celtic, Jazz and Blues.
He also specializes in American traditional fiddling which includes Appalachia, Bluegrass and Texas – contest styles. Jared received a Master of Arts degree from Hofstra University in 2010 in Scottish Music. During this study he was able to travel to Scotland and Cape Breton, Nova Scotia several times. Here he participated in dances, competitions and the Scottish Games. Since then Jared has devoted all of his time to private lessons on the violin, viola, mandolin, electric violin and beginning cello.
Jared's NYSSMA students have received high marks and have remained with him year after year. He feels that teaching is very rewarding, and can inspire students on to a career in music. As a chosen field, it can be followed from the grade school orchestra right through high school.
Kelly Q.
Instrument(s):
Cello, Violin, Viola, Bass
Areas of Work:
Suffolk
Type(s) of Lessons Offered:
In Home, Online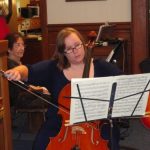 Kelly comes from a musical family, and started taking piano lessons at age 7. At age 9, she began learning the cello, and by age 12 she knew she wanted to be a music teacher. She has studied cello with Robert Davies, Laurinel Owen, Heidi Hoffman, and Elizabeth Simkin. She received her Bachelors of Music in Music Education from Ithaca College in 2007 and her Masters of Arts in Education from Stony Brook University in 2009. Kelly has played in many settings on many stages, including at Lincoln Center and Carnegie Hall, and under the baton of the late great Russell Stanger. She is currently the assistant principal cello for Sound Symphony.
Kelly has been teaching since age 16. She believes that it's almost never too early or too late to start learning music. She prefers working one-on-one since it allows her to tailor her instruction to each individual student. In her spare time, Kelly enjoys going to concerts, traveling, and cooking. She has been teaching for String Sound Studios since 2010.