Thayer N.
Instrument(s):
Guitar, Mandolin, Ukulele
Areas of Work:
Online Only
Type(s) of Lessons Offered:
Online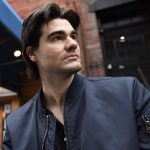 Born in New Hampshire, Thayer began studying guitar at age 7 and continued for the next 20 years. After graduating from Berklee College of Music with a BFA in Performance in 2013, Thayer settled in NYC where he has been a professional working musician. His track record includes such achievements as: three solo instrumental guitar records in three years, private events as a solo guitarist, musical theater pit work on multiple instruments, and video/audio recording sessions. Thayer is a versatile guitarist, able to play in many different genres. He is a gifted composer, strong sight reader, passionate instructor and chart maker as well.
Thayer says, "I have had the pleasure of playing in a vast variety of musical genres and situations within the music business. Using the guitar as my creative voice and outlet, it has offered me lots of versatile experience, plus a unique hands-on education."