Michael Violette
Instrument(s):
Guitar, Bass Guitar, Piano, Ukulele, 5 String Banjo, Woodwinds
Areas of Work:
Suffolk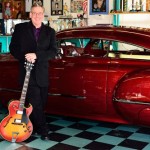 Michael has been at the helm of String Sound Studios since 1986. Mainly a guitarist, he is also well-schooled in bass guitar, piano, and some woodwinds. He is considered by his peers to be a talented multi-instrumentalist with skills on 5-string banjo, ukulele, and mandolin. While at Five Towns College, Michael studied with master musicians Peter Rogine, John Dewitt, and Donna Olson. Michael insists on being eclectic and shares a deep understanding of jazz, rock, blues, and classical music with all his students. Michael has a world view of music which includes Latin, eastern, and western elements that show up in his arranging.
Over the years, many of his students have been accepted into music colleges and are actively involved in the music industry today. Michael is also an ace transcriber, arranger, and extremely knowledgeable in using music software such as Sibelius to arrange and compose music for the ensembles at our Setauket studio. For over 30 years he has been guiding students in NYSSMA, All-State, recitals and college auditions. Michael's influences range from Bach to Larry Carlton, and he has played with numerous bands as a freelancer over the years. He is in the midst of a finger-style solo guitar project and involved in private and ensemble music instruction.
Along with possessing a strong musical prowess, Michael and his family are very involved with ice skating and ice hockey.
Contact us at 631-476-8946 if you would like to book Michael for music instruction.
Ross V.
Instrument(s):
Clarinet, Saxophone, Flute
Areas of Work:
Nassau, Suffolk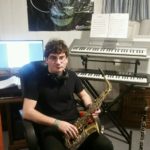 Ross V. ~ Since discovering my father's Clarinet beneath the stairs at the age of 7, my passion for music has evolved into a lifelong commitment and career. My musical beginnings consisted of orchestra and jazz ensembles in my school and community, eventually graduating to become the principal chair of the Maryland All-state and Maryland Classical Youth Orchestras.
I received the Louis Armstrong Award for Jazz Performance and John Philip Sousa Award for musical excellence in High School.  I studied Classical Clarinet and Jazz Saxophone on a full scholarship to UMBC, graduating in 2016 with a B.A. in Performance.  I have performed with a variety of Jazz and New Music ensembles in Baltimore and Washington D.C.  I have also been composing music since 8th grade, and have ranked in the international Scofen Music contest for EDM composition.
I have been teaching for the past 8 years, and draw my techniques from the lessons of the great teachers I have studied with. I believe that virtuosic musicians discover and cultivate their sound through mastery of the most basic of skills, and thus I focus on mastery of fundamental skills and tone exercises, even with my more advanced students.  The characteristics of a musicians sound that differentiate them from their peers lie within their tone, breath control, concentration, and understanding of the underlying melodic and rhythmic structures.
I begin lessons and practice sessions with sustained tones and interval/arpeggio exercises.  I guide beginning students through the Rubank, Accent on Achievement, or Breeze Easy method books.  I also believe in having practice performing, and thus all of my students study concertos/sonatos/fantasias and play mock concerts or auditions.
To keep things fun I also use the aebersold, and other play-along books with recorded ensemble backtrack CDs.   I am willing and able to teach whatever style or genre of music or improvisation that a student might be interested in, and have experience performing and teaching Classical, Jazz, Avant-garde, and 'New' music.
Contact us at 631-476-8946 if you would like to book Ross for music instruction.