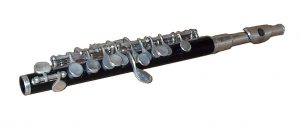 History and Information
The piccolo is the smallest member of the flute family, a group of instruments that dates back over 40,000 years. While these early instruments were made out of bone, wood, or reeds, the piccolo is most often made out of resin, metal, or hardwood. The repertoire of the piccolo includes a variety of styles and genres, including classical and modern band and solo pieces, and even some popular tunes.
When to Start
Students can start piccolo lessons as young as age 7, depending on hand size, fine motor skills, and lung capacity. The latter is especially important because, unlike most other woodwinds, there is no reed, so the player must be able to force a large amount of air through the instrument. Students will often start on the flute, and then either add the piccolo to their music instruction, or switch over entirely.
Getting a Flute
There are many brands and models of piccolo available for rent and purchase. For very young students, it is recommended to rent instruments for two reasons: 1) they will most likely grow out of instruments quickly and 2) they may lose interest (although we hope they don't!). Most places that rent instruments will also provide repair services for their instruments. We can give you recommendations for places near you to buy or rent your piccolo. Please contact us, and be sure to include your location!
Books and Supplies
Most rented piccolos will come with items such as a case and cleaning implements. Your instructor can tell you which books and other supplies are appropriate. Most of these are available online. We can recommend stores near you where you can purchase supplies and music, if you prefer to do so in person. Please contact us, and again, remember to tell us where you live!
**Feel free to contact us with any questions you may have. We can help provide you with additional resources.**