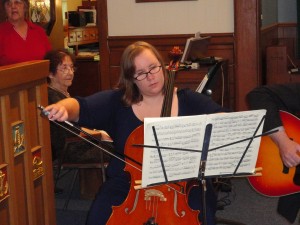 Kelly Q grew up in a musical family on the north short of Long Island. She started playing cello at age 9, and decided by age 12 that she wanted to be a music teacher. During grade school and high school, Kelly participated in multiple county- and state-wide festivals, played at Carnegie Hall with her youth orchestra, and took orchestra and chamber music classes at Stony Brook University as part of their Pre-College program. She attended Ithaca College for her Bachelors degree and majored in music education. There, she was able to play at Lincoln Center, and participate in a summer chamber music program in Italy. After graduating from Ithaca, she continued her studies at Stony Brook University, obtaining a Masters degree with a focus on music and education. She has performed with Sound Symphony, the Celan String Quartet, and several local composers.
Kelly has studied cello under Robert Davies, Laurinel Owen, Heidi Hoffman, Andrew Smith, Judith Glyde, and Elizabeth Simkin, and has taken conducting classes with Jeffrey Grogan, Elizabeth Peterson, and Stephen Peterson. She has played in orchestras under the batons of Phil Preddice, Susan Deaver, Jeffrey Grogan, Jeffery Meyers, and Russell Stanger.
Kelly started teaching for String Sound Studios in 2010, where she teaches not just cello but also violin, viola, and upright bass. Since then, many of her students have participated in NYSSMA with excellent results, and have been invited to play in the same county- and state-wide festivals she did as a student, such as SCMEA, LISFA, NYSCAME, and All-State. Several of her students have also played with some very selective youth orchestras, and have participated in the String Sound Studios Annual Recital. She believes that learning an instrument is a detailed, personal experience that is best achieved through private instruction, where she can tailor her methods to each individual young musician's needs.
In her spare time (which there is not a lot of!), Kelly enjoys attending concerts, cooking, traveling, and learning new languages.
Contact us today if you are interested in taking lessons with Kelly or any of our other teachers!