Instrument(s): Flute, Piano
Areas of Work: Suffolk, Nassau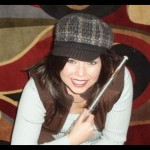 "Having the privilege to teach music or any other subject is having the privilege to inspire lives. I am thankful for the gift I have been given, and strive to inspire others with this joy." –Nina M.
Nina received her Bachelors degree in both flute performance and psychology from Arizona State University in May of 2005. She has played flute and piano since 1991 and has been teaching all ages (3 through 65 years old) since 1999. She has also played with a wide range of groups including Latin jazz groups, classical ensembles, an Indian gospel band, with opera productions, with symphony orchestras, and for various recordings. She recently spent time in Chennai, India, where she was teaching Western music. She is currently playing around Long Island with a band, and working on a solo album for piano, flute, and voice.
Nina is a very passionate, fun, encouraging, and inspiring teacher who knows how to get results!!
For examples of her flute music go to: Myspace.com/ninasmuse