Instrument(s): Guitar
Areas of Work: Suffolk, Nassau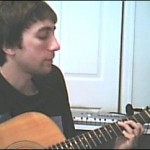 Jason holds a Masters degree in Music Education from Hofstra University, as well as a Bachelors degree in Audio Engineering/Music Business from Five Towns College.
His performance experience includes playing guitar and bass in pit and jazz bands, as well as his own band. He has also sung in college choruses, and produces/engineers music for artists at a home studio. In the past five years, he has written and recorded seven albums of original material.
Jason has experience teaching in public schools and is certified in Orff-Schulwerk with a background in choral/instrumental studies. He has prepared students for competitions including NYSSMA.
His main belief is that music education is central to developing a child's aesthetic, experiential and cognitive skills. It enhances the capacity to feel emotion, bridges gaps between cultures and language, offers us alternate ways of thinking and allows us to express what words cannot.
REVIEWS:
Chris & Karen R. – Greenlawn
"Jason has been [our son]'s guitar teacher for at least 4 years, and before that our daughter. Jason has shown enormous patience, creativity and mastery in teaching [our son] and keeping his interest. He always projects a passion for music and has a successful teaching style."