Instrument(s): Flute
Areas of Work: Queens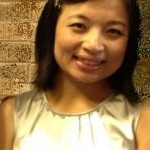 A native of Taiwan, Ti came to the U.S. at the age of 16. Holding a M.M. Degree in SUNY Purchase College and a B.A. in SUNY Stony Brook University, she pursued her Doctoral degree of flute performance at Texas Tech University, studying with Lisa Garner Santa. Ti was the winner of concerto competition at Stony Brook University in 2008, and received Palmedo and Music Department Scholarships. She attended to the Domaine Forget Festival in 2007 and the Charterhouse International Music Festival in 2010. Starting in 2011, Ti was the teaching assistant in the flute studio of Texas Tech University, the member of TTU Graduate Woodwind Quintet, and Lubbock Symphony Orchestra Education Woodwind Quintet. Her teachers include Conor Nelson, Tara O'Connor, Kaori Fujii, and performed in the masterclasses by Carol Wincenc and Susan Milan. As the winner of the concerto competition in Texas Tech University, she performed Liebermann's Flute Concerto with Texas Tech University Orchestra in the fall of 2013.
Contact us at 631-476-8946 if you would like to book Ti for music instruction.