Brian V.
Instrument(s):
Piano, Guitar, Bass Guitar
Areas of Work:
Brooklyn, Manhattan, Queens
Brian received a Bachelors of Music from the University of Louisville, where he studied double bass, piano, and guitar. Immediately after college he became a member of the rock band Days of the New, and after that he worked as a freelance jazz musician until moving to New York City in 2009. Since then, he has been teaching on Long Island and in Brooklyn, and freelancing as a performing musician.
Brian has been teaching students of all ages and demographics for over 13 years. During that time he has developed an approach that adapts to a student's abilities and how much time they have to give to the musical pursuits per week while maintaining constant growth and direction toward desired musical goals.
Contact us at 631-476-8946 if you would like to book Brian for music instruction.
Ian S.
Instrument(s):
Bass Guitar, Guitar, Piano
Areas of Work:
Brooklyn, Manhattan, Queens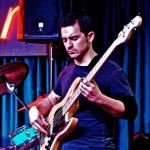 Ian was born and raised in Syracuse, NY, and grew up with the sounds of his father's record collection which included the likes of Frank Zappa, King Crimson, Return to Forever, and Weather Report. He took up the electric bass at age 12 and the upright bass at 16. While in high school he had the privilege of having numerous mentors, including Phil Flanigan, Ed Castillano, Jeff Campbell, Howard Potter, and many of the other musicians and educators in his home town. He was also fortunate enough to begin gigging at an early age in the various bars, clubs and restaurants in the Syracuse and Rochester areas.
Upon graduation, Ian continued his studies at SUNY Purchase were he received his BM in Jazz Studies in 2008. There, he would have the ability to study and take classes under Todd Coolman, John Faddis, Ray Vega, Charles Blenzig, Doug Weiss, Kermit Driscoll, Gerard Hecht, Pete Malinverni, Doug Munro, and many other members of the Conservatory's esteemed faculty.
In 2009, Ian relocated to Chicago, where he would remain until 2013. He quickly began performing around town with various acts of varying styles. It was around this time that he met pianist Darwin Noguera, and began playing with the Chicago Afro-Latin Jazz Ensemble and Noguera's Evolution Quartet. It was also through Noguera that Ian started to work with many different bands in the Chicago Latin Music scene. Over the next few years he would play with Angel Melendez, Salsa Con Soul, A Cor Do Brazil, Lise Gilly, Havana, Las Guitarras de España and other assorted groups in the area.
In 2010, Ian began playing touring with Moonjune recording artists Marbin. He spent the next two years playing almost exclusively with the band, visiting nearly every state in the union and opening for the likes of Allan Holdsworth, Jimmy Haslip, Virgil Donati and Scott Henderson among others. After parting ways with Marbin in 2012, Ian returned to Chicago and for the next year enjoyed a busy and eclectic freelance schedule once again. During this year, he began playing with composer/multi-instrumentalist Hector Silveira and began delving deeper into the world of Timba and Cuban Jazz. Around the same time, he become associated with author, scholar and, Timba.com editor Kevin Moore who further encouraged Ian's personal research on the subject.
A visit to New York City and a chance meeting with John Benitez prompted Ian to return NYC and pursue further opportunities. Since moving to NYC in the spring of 2014, Ian has had the honor of performing with Gerardo Contino, Gabriela Anders, Los Hacheros, Peliroja, Keith Ward, Bobby Sanabria, Axel Laugart, Oriente Lopez, Mike Ekroth, Buyu Ambroise Conjunto Guantanamero and other New York based artists. In addition to performing, Ian is also a contributing writer to Timba.com where he covers the latest in concerts and album releases in the NYC area.
Contact us at 631-476-8946 if you would like to book Ian for music instruction.
Matthew M.
Instrument(s):
Guitar, Classic Guitar, Drums
Areas of Work:
Brooklyn, Manhattan, Queens
Matthew started his musical career like most other guitarists, by teaching himself to playing rock music. He eventually traveled to what would soon become his passion which was the classical guitar.
Matthew quickly began setting his sights on getting an education in music, while retaining some of his rock and pop beginnings. After graduating from Suffolk County Community College, he attended SUNY Fredonia where he completed a B.M. in Classical Guitar Performance. While at Fredonia, he participated in the Fredonia Guitar Quartet, a new music performing duo of violin and guitar, and other various extracurricular ensembles including a jazz combo.
Books used in teaching: Christopher Parkening Guitar Method, Mel Bay.
Contact us at 631-476-8946 if you would like to book Matthew for music instruction.